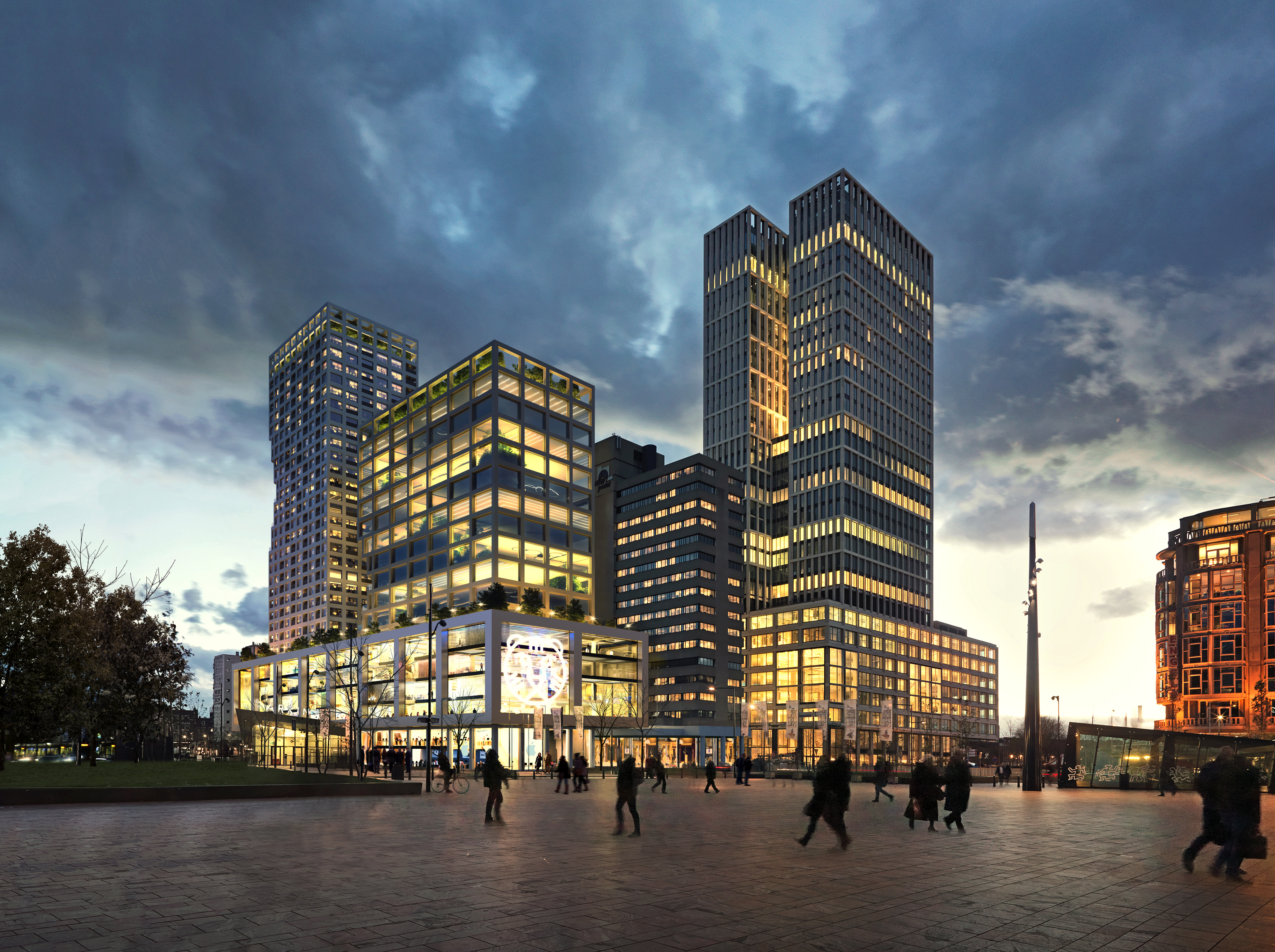 The Modernist
MVRDV has been selected by Maarsen Groep for a new 50,000m2 mixed-use tower complex marking the third phase of The Modernist development in Rotterdam's Central District. The complex will consist of approximately 17,000 m2 of offices, a transparent commercial plinth and between 200 to 300 apartments. Completion is set for mid-2022.
Location

City

Rotterdam

Year

2017

Surface

50000 m²

Client

Maarsen Groep

Status

In progress

Programmes

Themes
In the coming years, Maarsen Groep will develop a mixed office, residential and commercial program as the third phase of the transformation of the former Weenapoint complex in Rotterdam Central District. Now called as The Modernist. MVRDV was selected as architects after a design competition for this inner-city development. The complex will consist of approximately 17,000 m2 of offices, a transparent commercial plinth and between 200 to 300 homes.
The Modernist complex has been transformed by Maarsen Groep in phases in recent years. The realization of the new offices of Nauta Dutilh and Robeco in FIRST Rotterdam, the first phase of the transformation was completed in 2016. The redevelopment of Weena 750 to Premier Suites & Offices, the refurbishment of the courtyard and the renovation of the monumental dome building were completed in 2017.

In the third phase, the existing building on the Kruisplein will be replaced by an MVRDV design proposal for an urban program of approximately 50,000 m2 with international allure. The location is directly opposite Rotterdam Central Station and forms an important link in the development of Rotterdam Central District (RCD).
In addition to a precise urban integration, MVRDV also devoted a great deal of attention to the high sustainability ambition of the client. The different programmatic components all have their own volume and position, giving the complex a clear expression. The design provides high-quality office spaces along Kruisplein, with transparent plinth housing shops and restaurants clearly characterized by large-framed glass windows. On top of this, two towers guide the city entrance.

By making recesses in both towers, the design meets urban design requirements for sunlit public space. The new towers of The Modernist phase 3 have 'sun cuts' at different heights that provide extra sunlight at street level. An important link in the design is the covered square that connects the green courtyard of The Modernist and the street.
© all rights reserved