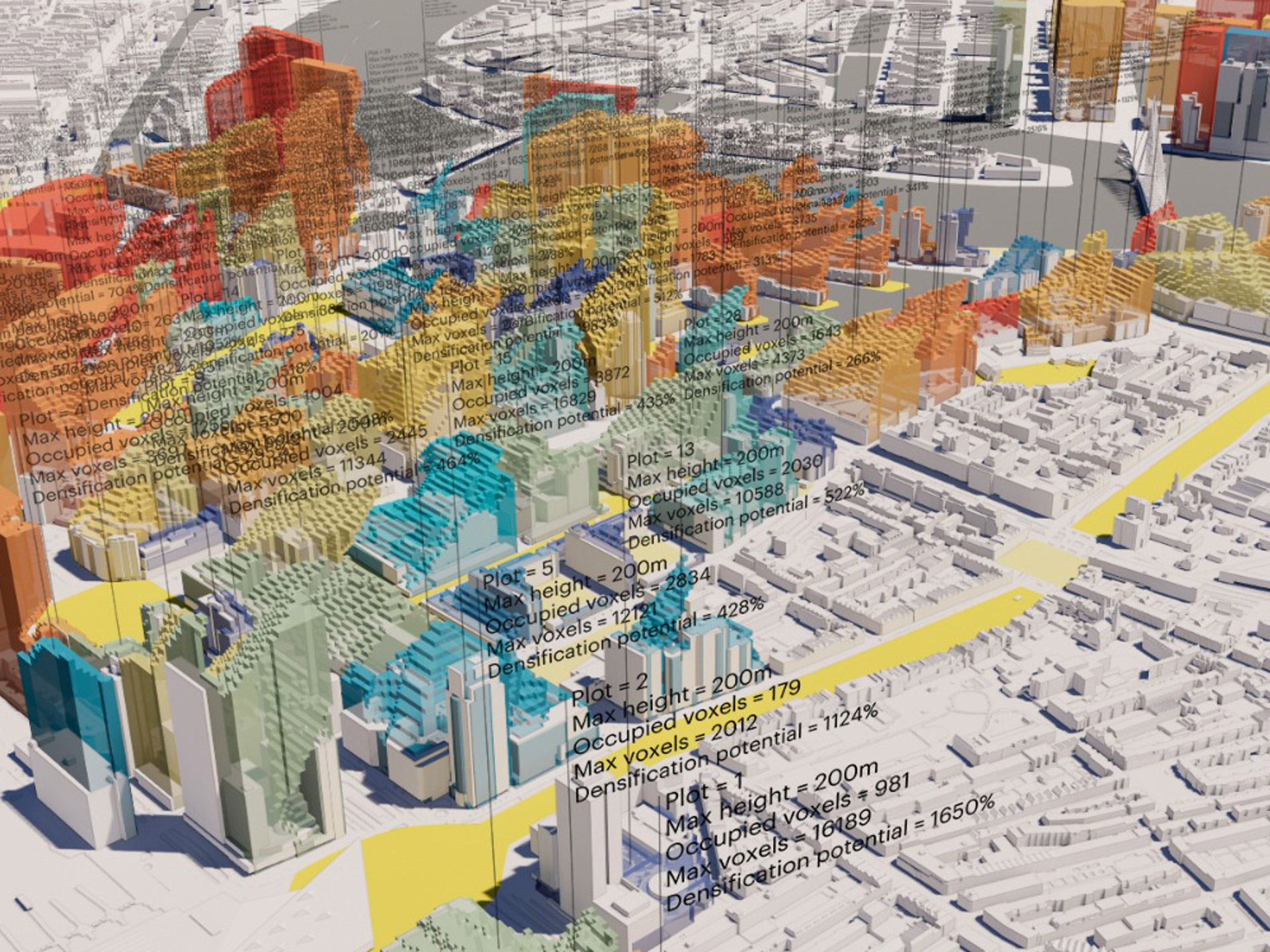 New Experimental Technologies
Making MVRDV's bold, innovative architecture requires us to push the limits of technological possibilities. As a group of in-house specialists, MVRDV NEXT develops and implements computational workflows and new technologies. Through a mixture of project-based work and standalone research, we rationalise designs, speed up processes and make projects more efficient and adaptable in the face of change. Our methods allow us to explore a future that is equitable, data-driven, and green. Alongside projects and research, we regularly engage in workshops and lectures in order to share knowledge and gain new insights. If these points resonate with you get in touch next@mvrdv.com
Design Automation and Feedback
We identify key design parameters within MVRDV's architectural and urban projects and develop computational models around them. Combining these parameters in different ways allows us to rapidly test large numbers of design scenarios in our digital models. The impact of each scenario can be evaluated against a variety of performance criteria. Exploring our projects with such a systematic approach enables us to compare scenarios at scale and to feed results back into our computational models, establishing an iterative design process to hone in on an ideal solution.
Rationalization
Within MVRDV NEXT we develop computational design workflows in pursuit of two ambitions: flexibility and precision. Parametric modeling gives insights into complex relationships between design concepts, structural and functional requirements, and financial implications. This enables flexibility throughout the design process and evaluation algorithms help to determine the optimal approach. For instance, in the design of Valley the desire for an apparently random pattern of tiles on the project's irregularly shaped façade was made feasible by the development of scripts by MVRDV NEXT.
DataScaping
MVRDV has explored the relation between data and space since its first "Datascape" projects in 1998. How can architecture visualise the data that surrounds us? How can the construction of virtual, information-rich models communicate design ambitions? In our SolarScape project, we visualise the buildable volume within a city without compromising access to sunlight. Within the larger mission of DataScapes we conceptualise and develop interactive, digital models at the intersection of public policy, environmental and economic conditions, architectural ambitions, and the desires of future residents.
Experimentation
MVRDV NEXT explores ways to enhance and challenge existing design processes. Sensors, 3D scanning and rapid prototyping, AR and VR in planning and construction, multimedia design narratives, and Machine Learning are new technologies that will, sooner or later, impact how we create and experience our environment. It is up to everyone to define what forms this could take. We consider the software that connects these elements a design object in itself, and therefore the task of designing it a responsibility of architects.