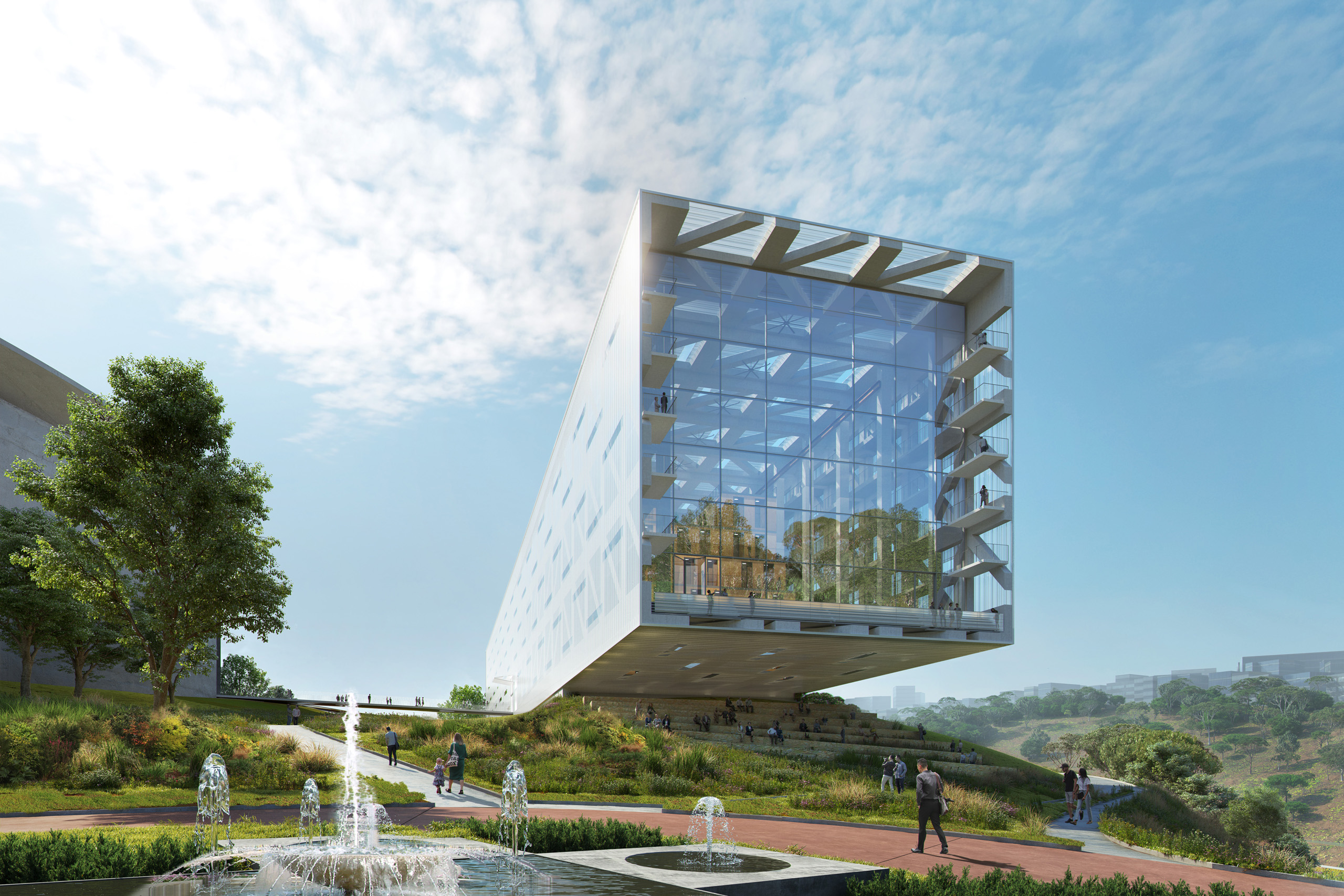 green dreams
We are combatting climate change with a devoted team of skilled in-house experts who specialise in carbon reduction and bio-based construction. Additionally, we have in-house assessors proficient in certifications such as BREEAM, LEED and DGNB. This internal group is bolstered by a network of top universities and sustainability advisors spanning the globe.
Our mission is to steer on impact. In our projects, we meticulously analyse how to optimise impact, control carbon emissions, enhance energy efficiency, and integrate climate adaptation strategies as well as nature-inclusive interventions. This iterative process is constantly refined with each project we undertake. Our foremost objective is to reduce both embodied and operational carbon in our projects, recognising the profound impact this yields. Sustainability in construction and planning is, to us, a customised undertaking delivering diverse outcomes across all budget ranges – sustainable measurements can even positively influence project budgets. Our Rotterdam practice, situated below sea level, bears witness to climate change and the sense of urgency it demands. We are in the process of becoming, and already are, an active part of the solution.
Designing with Carbon
MVRDV's focus centres on designing with carbon through informed decision-making. This involves seamlessly integrating early-stage carbon analysis into the design process to steer on low-carbon design solutions. A set of carbon design guidelines assists our designers and architects in making strategic decisions to lower the carbon impact of our structures. Our carbon guidelines for architects are openly available so others can also be inspired by them. To support our process, we've developed a digital tool enabling us to assess the impact of our designs from the very first moments of a project's design. This software, CarbonScape*, empowers us to work with a well-informed estimate even during the early conceptual stages. Carbon assessments are usually done at the end of the project. With our approach we can steer in the process, establishing a framework that understands what we can measure at each stage of the process in order to secure a low carbon footprint in the end result.
The quest to diminish embodied carbon can lead to remarkable outcomes. In a commercial project involving two towers, offices, and housing, we achieved a 49% reduction in embodied carbon compared to business as usual. Our Climate team thoroughly analysed the buildings, identifying the most impactful components, and substituting them with less carbon-intensive alternatives. This reduced the overall weight of the project and therefore resulted in lighter foundations being required. While the lower-carbon materials used in the upper sections of the buildings were costlier, the savings achieved in the foundations compensated for this investment, rendering the budget comparable to that of traditional construction.
Bio-based construction is another direction we are actively exploring. In Paris, we successfully realised a collective social housing project using mass timber, atop the existing Gaîté Montparnasse shopping centre. This realised project acts as a carbon reservoir and the relatively lightweight timber structure prevented extensive interventions in the underlying building.
Transformations
Wherever possible, we seek to avoid demolition, maximising the initial investment in materials and carbon made by past actors. We work with existing buildings and structures, breathing new life, purpose, and identity into them. Our approach is grounded in adaptability, future flexibility, and demountability, ensuring that projects extend beyond their present use and lifespan.
Consider our Shenzhen Women & Children's Centre, for instance. This office and hotel tower, originally constructed in the 1990s, illustrates how repurposing a weary structure can not only conserve carbon but also expedite construction. Instead of the five-year timeline for demolition and new construction that was initially projected, the transformation from initial sketches to grand opening was realised within a mere 18 months. Moreover, this transformation saved carbon emissions equivalent to 11,800 flights from Amsterdam to Shenzhen.
In Koblenz, we reimagined the back-of-house section of the main theatre. Our approach, rooted in a lower carbon footprint, is different from a regular renovation. We opted for bio-based materials whenever possible, such as timber structures, timber walls, and floor slabs. Internal walls were made from earth-based components, using clay panels, bricks, and plaster. The structure itself is lightweight and designed for demountability. The façades are covered in recycled aluminium cladding, and discreetly placed solar panels crown the roofs, invisibly blending into the heritage surroundings.
The concept of a building's end-of-life phase is naturally unpopular among architects. However, the materials used are valuable, and by constructing with demountability in mind, we make future demolitions feasible, facilitating the recycling of nearly all employed materials. This approach is embraced in numerous projects, most notably the Matrix ONE innovation hub at Amsterdam Science Park. Designed for disassembly and comprising over 120,000 individual components, this structure is meticulously catalogued in the material database Madaster. This not only aids in end-of-life considerations but also enables us to anticipate the lifespan of individual materials within the building and when replacements might be needed.
Energy
MVRDV is actively committed to reducing the energy demands of our projects through the integration of bioclimatic design and passive strategies while elevating energy production to a central element in the building's presentation.
The energy equilibrium played a pivotal role in the design of the public library Book Mountain in Spijkenisse, paradoxically a glass house. Here, water serves as the primary heating and cooling mechanism, harnessing the temperature differences of the seasons. An intelligent computerised natural ventilation and shading system enhances air quality and temperature control within the building. Unlike traditional systems, this setup requires only a modest amount of renewable electric energy, eschewing the substantial quantities of natural gas still used for heating in the Netherlands.
The Lankuaikei Agriculture Development (LAD) Headquarters in Shanghai, an 11-storey terraced office building, harmoniously amalgamates high- and low-tech sustainability strategies beneath an architecturally captivating technological roof. Solar panels grace the roof's southern expanse, while the northern section features a permeable design, filtering sunlight while allowing rain to reach the terraces below.
Addressing energy at a campus level for a masterplan in Germany, we engage with a comprehensive carbon and energy budget to shape an integrated design. By formulating an energy masterplan, we harness synergies across diverse applications. This involves harnessing surplus heat, capitalising on energy and heat harmonies at local and regional tiers, spatially integrating passive strategies, and implementing natural and hybrid ventilation solutions. Additionally, we adopt a dynamic adaptive approach grounded in building usage to optimise energy consumption.
In Rennes, the mixed-use commercial and social housing project Ascencion Paysagère features a Passivhaus building designed to minimize energy impact from the outset.
With energy reduction as a central consideration in design, a multitude of pathways lead to substantial results. For each region, typology, and technological standard, there are strategies to control energy consumption.
Ecology
We amplify the ecological impact of our projects by embracing climate adaptation and nature-based solutions. These strategies nurture biodiversity and facilitate responsible, integrated water management to safeguard the well-being of both life and nature.
The Noviotech Campus in Nijmegen, Netherlands, is united by a landscape strategy that employs a diverse mix of trees, shrubs, and flowers arranged in overlapping circular clusters. This speckled landscape is propelled by a strategy centred around five flagship species chosen to represent different facets of a thriving environment. Working together as a team, the earthworm, the hedgehog, the squirrel, the bullfinch, and the swallowtail ensure a thriving ecological balance. Consequently, the campus evolves into a vibrant biotope where harmony reigns – from berries to blooms, leaves to limbs, petite plants to towering ones – adorning spaces between buildings, crowning rooftops, and even gracing façades wherever feasible.
We are also currently designing with nature in a tropical context, envisaging the transformation of a forested expanse into a public garden experience. Here, we created a digital twin of the entire mountain, meticulously scanning its countless trees and undertaking a comprehensive analysis of its existing flora and fauna. This endeavour empowered us to strategically plan interventions that optimise vistas and hydrological conditions, while ensuring preservation in vital zones. Particularly noteworthy was our ability to move trees within the digital model and predict the resulting changes, enabling us in real life to make surgical interventions that minimise damage to nature. Instead of felling trees, we chose to relocate and sustain them, while leaving wildlife areas untouched. This technology equips us to collaborate harmoniously with nature, enabling us to devise masterplans and landscape projects grounded in clear parameters and rationality.
EU Green Deal
Last but certainly not least, we hold the EU Green Deal in high esteem and actively align ourselves with its criteria, transforming them more and more into tangible and viable interventions within our projects. Many companies are currently working on implementing these criteria as described in ESG. Our climate team remains in a constant learning mode, ensuring the smoothest possible integration. Many of the current criteria inherently align with our design philosophy, and we closely collaborate with our clients to address their concerns in this realm. Beyond the EU, we apply the relevant requirements and ambitions from governments for our clients in, for example, North America and Asia.
With our knowledge in working with carbon in the design process we can adapt to future upcoming regulations worldwide as cities and local governments worldwide introduce legislation regarding carbon emissions for the construction and real estate industry – as for example, California and Toronto have recently done. We engage in comprehensive discussions and outline ambitions regarding carbon, energy, circularity, and ecology with our clients before the project even commences. This practice ensures the development of clear solutions throughout the design process, culminating in designs that are ultimately delivered to clients and public stakeholders. These meticulous processes guarantee that we effectively mitigate the effects of climate change through holistic design concepts that lucidly illustrate the urgency of transformation, while remaining grounded in practical feasibility within the building industry.
(* We receive numerous inquiries about this CarbonScape, but for now the software remains an internal process in active development and it is not available for sale.)
Experience Sustainability