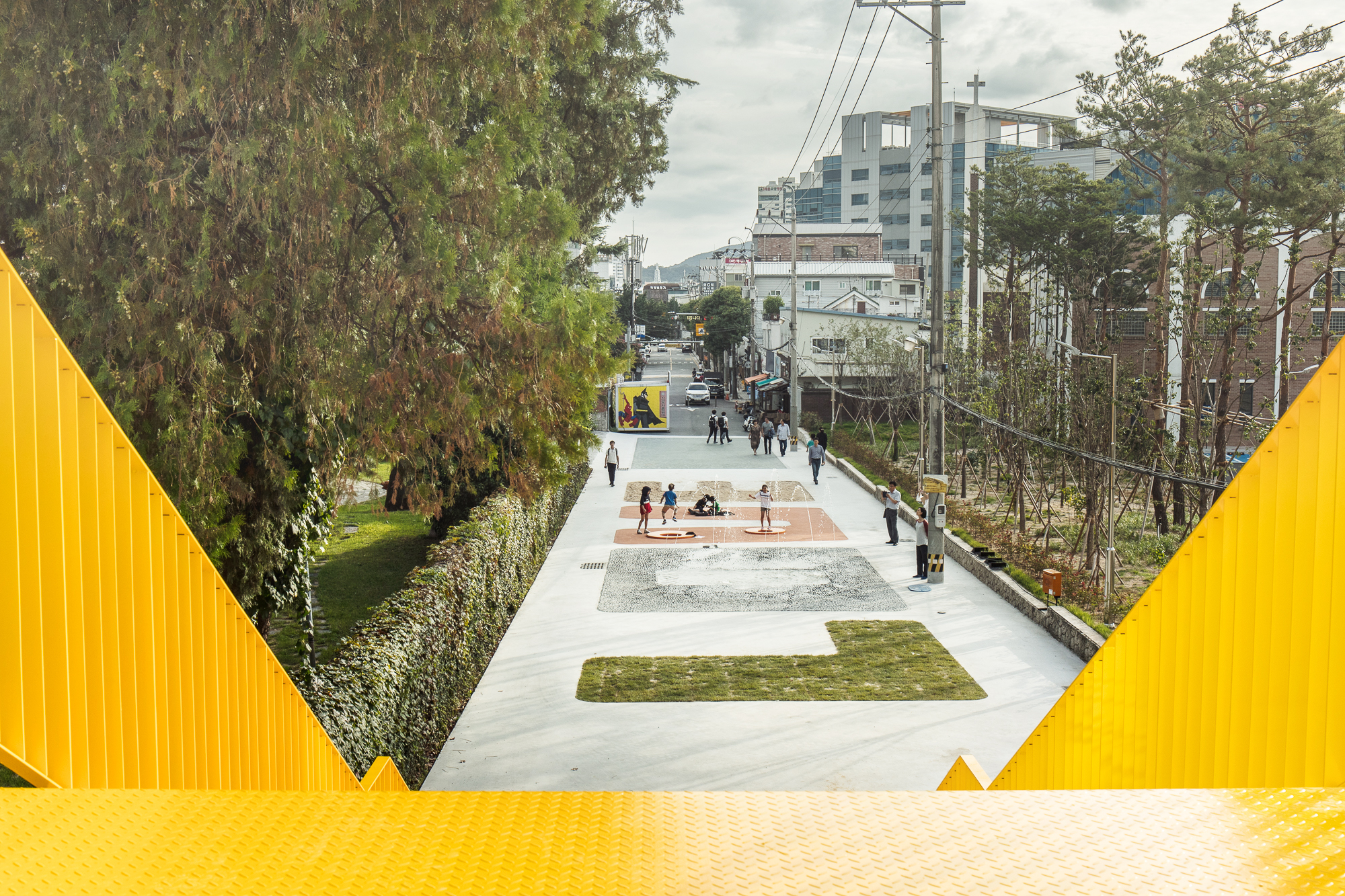 Gwangju Folly
MVRDV realised I LOVE STREET in collaboration with students of the Seosuk Elementary School as one of the third edition of the Gwangju Folly. The 960m2 permanent intervention explores how architecture contributes to urban regeneration by playing both decorative and functional roles in public spaces. The project was conceived in a participatory process.
Location

City

Gwangju

Year

2017

Surface

960 m²

Client

Gwangju Biennial Foundation

Status

Realised

Programmes
FOLLIES: SENSE AND NONSENSE

Follies are, essentially, small interventions in urban spaces and although considered to be art pieces, they are somehow perceived as frivolous, temporary, and at times innocent and unserious. They are made by artists and architects, mostly on the basis of their own fantasies. They are elements that aim to make 'no sense' and some might argue that they are 'nonsense'. But follies can help to point the observer in another and surprising direction, thus helping them visualize current urban problems. They are playful whilst allowing for a critical engagement and, importantly they can bring about smaller examples of grander dreams and ambitions. Follies can be tested on a small scale and can contribute as real drivers of policy changes in a city.
GWANGJU 1

Gwangju is known for its industrial qualities. A city with a booming car industry situated between beautiful surroundings of cherry blossoms and nature, but in recent years has become dominated by cars and lacks many pedestrianised zones, especially in its old part of town. From 2011, Gwangju, follies located all across Gwangju are designed to achieve urban regeneration by providing a cultural rebirth to its downtown area after 40 years of rapid industrial growth. These interventions are a step in refocusing attention on abandoned areas of the city with the potential to transform them into more livable and pleasant areas as they develop in time.





GWANGJU FOLLY TOWN

The decision a while ago to make a series of follies in Gwangju was a courageous and experimental first step. Some have become highly successful, like the lifted band designed by Juan Herreros that helped to raise attention about a neglected part of the city, turning it into a highly used area afterwards. There are also the stairs to the city's Green Corridor, designed by Seung H-Sang, which functions as a small culture center. The follies are a phenomenon that no other city has developed. Thus, they are able to make the city of Gwangju sexier, more attractive, and more widely known. This now starts to come down to one thing other cities don't have: a Folly Town.

FOLLY RESEARCH

Concentrating on the old city of Gwangju, a series of research initiatives has been undertaken. By comparing Gwangju to other cities in Korea and around the world, its strengths and weaknesses have been evaluated. Gwangju, for instance, seems less walkable than other cities, and has insufficient public transportation. It is less bikeable, less attractive for tourists, has fewer green spaces, and is less cool in the summer than other cities. In addition, it is less energy independent and features fewer libraries, exhibitions, theatres, sports venues, playgrounds, and urban events than many cities.

THE "I LOVE" STREET FOLLY

Jebong-ro 82 (Seosuk Elementary School, 26, Jebong-ro 82 beon-gil, Dong-gu, Gwangju) will be closed for traffic. In collaboration with Seoseok Elementary School, a series of their requests has been explored. That has led to multiple different pavements that can be used for sitting, painting, jumping on trampolines, and playing in the sand. By shaping these pavements in a series of letters, a true text appears, indicating people's love for many things through 'I LOVE'. At the same time, a neutral square space at the end of the text is maintained for everyone's personal use, and it can even be painted and adapted like a canvas. I LOVE can thus become I LOVE KOREA, I LOVE WALKING, I LOVE THE MAYOR, I LOVE GWANGJU, or I LOVE YOU, for example. This text can be seen from a special tribute spot at the beginning of the street. This tribute also provides access to a platform that is five meters high, with a bench and a table. From here, the gardens can be viewed and a selfie can be taken. The chalkboard space is transformed into a dance floor every evening with special lights, while love songs from Jeroen Kooijmans will be played to get people dancing – I LOVE DANCING!



WHAT'S NEXT?
Within the current time frame and budget, the I LOVE folly and street has been realized. But why not follow through with the rest, and even more? If this can be achieved then it will create possibilities to walk around the emerging city and soak in its observations on the future. Folly Town.
The Stimuleringsfonds supported the research and design phase.

© all rights reserved
Architect
Principal in charge
Partner
Design team
Strategy & Development
Copyright: MVRDV
Partners