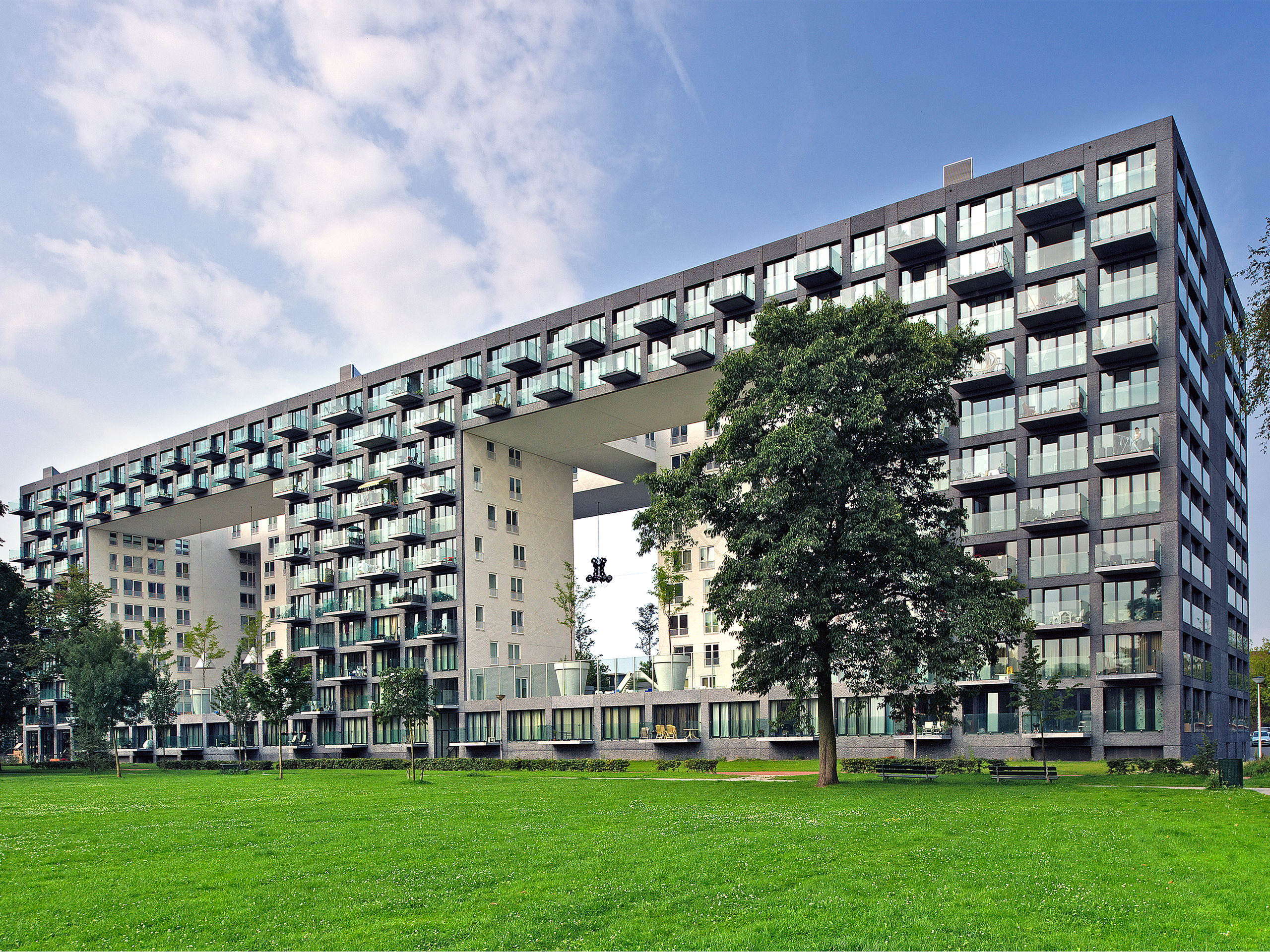 Parkrand
The Parkrand building condenses small housing units into an impressive volume preserving and even enlarging, the park. The program is split into five towers connected with a patio which forms a lifted semi-public area that overlooks and enlarges the surrounding park. The park building is seen to continue the optimistic tradition that characterizes the history of these post war modernist neighbourhoods.
Location

City

Geuzenveld, Amsterdam

Year

2006

Budget

€28,500,000

Surface

35000 m²

Client

Het Oosten/Kristal bv, Amsterdam NL

Status

Realised

Programmes

Themes

Architecture , Housing , NEXT
'Buurt 9' (Neighbourhood 9) forms part of the garden cities west of Amsterdam. It consists of 174 standard small housing units, located in three L-shaped buildings and positioned next to a small park. The new design relocates the housing into one compact but impressive volume thereby conserving more space for the park. The proportions of the outline for the block, 135 m long by 34 m high and 34 m deep, could be considered as mansion-like in relation to the even more spacious park. A new 'country estate' arises that adds character to the park.
The programme includes five towers that are sandwiched between a large, raised communal patio and a series of rooftop penthouses. This creates an open and airy block, and offers different views from all directions. The semi-public patios is raised so that its overlooks the park. The garden offers protection from rain and wind, secured access, and more intimate spaces and playgrounds. It will be used more frequently and by different people than the park. This area becomes a central space for the inhabitants, an outdoor 'living room'. This idea is accentuated by the use of soft furniture, decorative walls, ceiling and floor finishes, plants, and 'chandeliers'.
The towers are positioned in such a way that they do not block views from the neighbourhood to the park. They also allow all of the apartments a view to the park and an orientation to the sun. This is achieved by perforating the roof plate in three places. The perforations are repeated at the ground floor, forming two courtyards that offer light, view and access to the apartments on the first level. With these techniques, the Parkrand building adds both more 'garden' and more 'city' to the developing Western Garden Cities of Amsterdam. It continues in the optimistic architectural tradition that characterizes the history of these neighbourhoods.
© all rights reserved