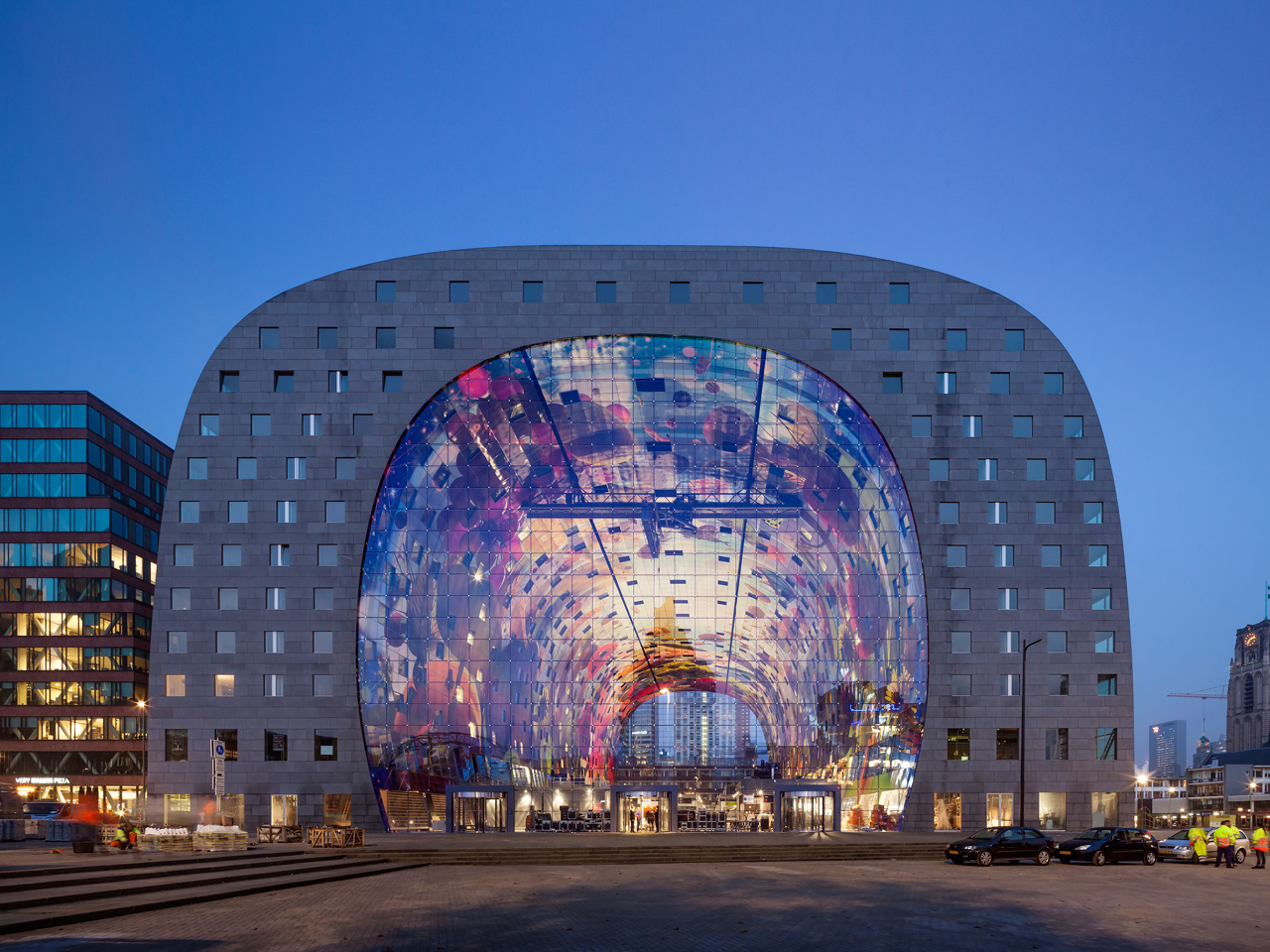 Markthal
The Markthal is a sustainable combination of food, leisure, living, and parking, a building in which all functions are fully integrated to celebrate and enhance their synergetic possibilities. A secure, covered square is nestled beneath a large arch, conceived as an entirely new take on a typical market square and its surrounding buildings.
Location

City

Rotterdam

Year

2014

Budget

€ 175,000,000

Surface

100000 m²

Client

Provast Nederland bv, The Hague, Netherlands

Status

Realised
Located in the historic Laurenskwartier in the heart of Rotterdam, the Markthal is formed by the construction of privately-developed apartments arranged into a large arch, strategically allowing a private initiative to create a public space. The result is a covered square which features a central market hall during the day and, after closing hours, a lively series of restaurants on its lower levels. It is a hybrid building where visitors are able to shop, eat, enjoy a drink, live, and park their car.

The building has a total floor area of 95,000 square meters, with 228 apartments and 1,200 below-ground parking spaces. But the building's most striking feature is its central market hall, which provides a home for 96 fresh food stalls and shop units, ranging from Rotterdam based businesses and market vendors to established local heroes. They offer a diverse range of products: from fresh fish to game, from cappuccino to cheese, from local favourites to exotic cuisine, and from bargains to exclusive slow food.
At the sides of this hall, the ground and first floor accommodate 20 retail units, restaurants and cafés. On the 1st underground level there is a supermarket, allowing visitors to complete their shopping under one roof, and "The World of Taste", a centre for education, information and innovation in healthy eating.

Located under the 40-metre-tall arch, the market hall is enlivened by a large mural covering the vaulted interior. "Cornucopia", by artists Arno Coenen and Iris Roskam, shows massively enlarged images of food products alongside flowers and insects, in reference to Dutch still-life paintings from the 17th century. The entire work is over 11,000 square meters in size, with a resolution comparable to a glossy magazine. In order to achieve this sharpness, the image was rendered by Pixar software and printed onto perforated aluminium panels, which were then attached to acoustic panels for noise control. In contrast, the exterior façade, the floor of the market hall, and the surrounding public space are all clad in natural grey stone, helping to emphasise the colourful interior that is the building's centrepiece.
In order to attract visitors, the building is designed with an open character. While the ends of the arch had to be physically closed to provide protection from the weather, they are kept as transparent as possible by a single-glazed cable net façade. With a construction system similar to a tennis-racket, pre-stressed steel cables create a suspended net onto which the glass panes are hung. Markthal's cable net façade is the largest of its kind in Europe, and has enough flexibility to withstand heavy storms. The Markthal is also an energy efficient building, awarded a Very Good BREEAM rating.




Video made by Dutch design studio Moooi about the Markthal. (in Dutch): click here.


Within the arch structure itself, the Markthal holds 102 rental apartments and 126 freehold apartments, including 24 penthouses. The apartments vary from 80 square metres to 300 square metres, and from two to five bedrooms. Every apartment has a view towards either the River Maas or the Laurenskerk, and into the market hall.

The apartments follow strict Dutch laws regarding natural daylight: rooms that require natural light, such as living rooms and bedrooms, are situated on the outside, with views towards either the river Maas or the Laurenskerk; while kitchens, dining rooms and storage are positioned on the market side, establishing a connection to the market through windows or a glass floors made of sound- and smell-proof triple glazing.

With its unique arched structure, and unusual achievement of turning a private development plan into a public building, the Markthal makes Rotterdam home of a new urban typology, a hybrid of market and housing.
© all rights reserved