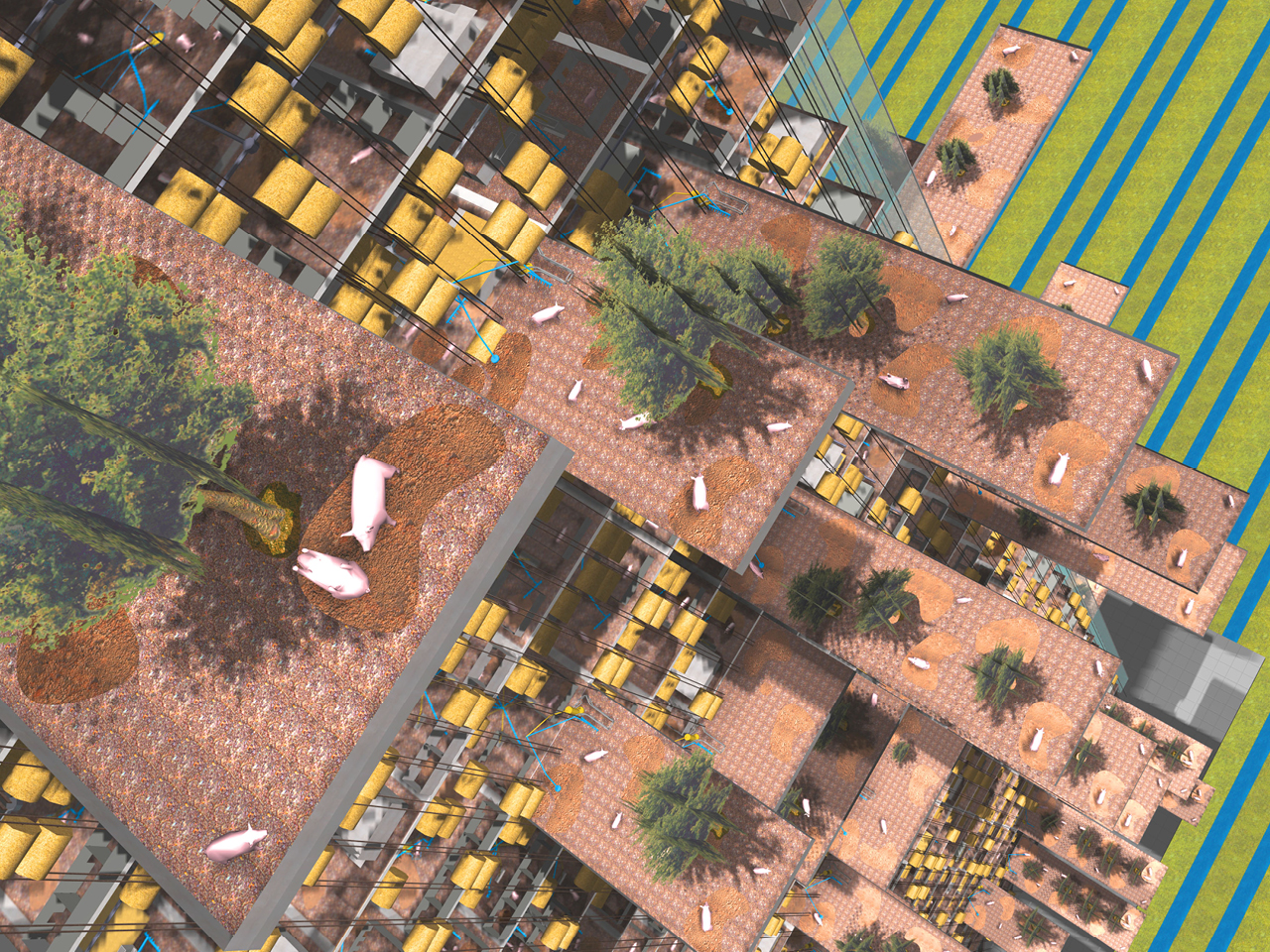 Pig City
In 2000, pork was the most consumed meat globally at 80 billion kg per year. Crises such as Swine Fever and Foot and Mouth disease have raised questions about pork production and consumption. Two opposing reactions are imagined: either we become vegetarians or we change production methods and demand humane farming procedures. The success of the latter hinges on its (economic) viability which in turn poses a fundamental question: do we have enough space for biological pig farming?
Location

Year

2001

Client

Stroom Den Haag, Centre for Visual Arts, The Hague NL

Status

Design

Themes
With a production of 16.5 million tons of pork, The Netherlands is one of the biggest exporters of pork within the European Union. In 1999, 15.2 million pigs and 15.5 million humans officially inhabited The Netherlands. In 2000, one pig required an area of 664 m2 including food production and processing: 50% intensive grain production and 50% industrial by-products. In the case of organic farming, pigs are fed with 100% grain resulting in a required 130% more field surface due to the reduced grain production. This would result in an area of 1726 m2 per pig, including the organic food processing and leave a mere 774 m2 per person for other activities. In other words, 75 % of the Netherlands would be dedicated to pigs.
Can we combine organic farming with an intensive concentration of the production-activities so that there would be enough space for other activities? Is it possible to compact pig production within concentrated farms eliminating the need for costly and polluting transportation and distribution? Can we through concentrated farming activities create the economic incentive for a communal slaughterhouse, a self-sufficient fertiliser recycler and a central food core?
Pig City proposes a radical 'shake-up' of pig farming in The Netherlands. Following EU guidelines for organic farming and taking in account the deficiencies in the present system, MVRDV designed a revolutionary organic pig farm. The proposal ensures that the conditions in which pigs are kept is humane. Livestock are given more space, kept in groups of natural size and have access to better facilities. Beyond these basic requirements, the proposal addresses the need for (livestock) healthcare, a secure food supply, entertainment and supervision. All these aspects are addressed and accounted for in the visionary Pig Farm.
© all rights reserved