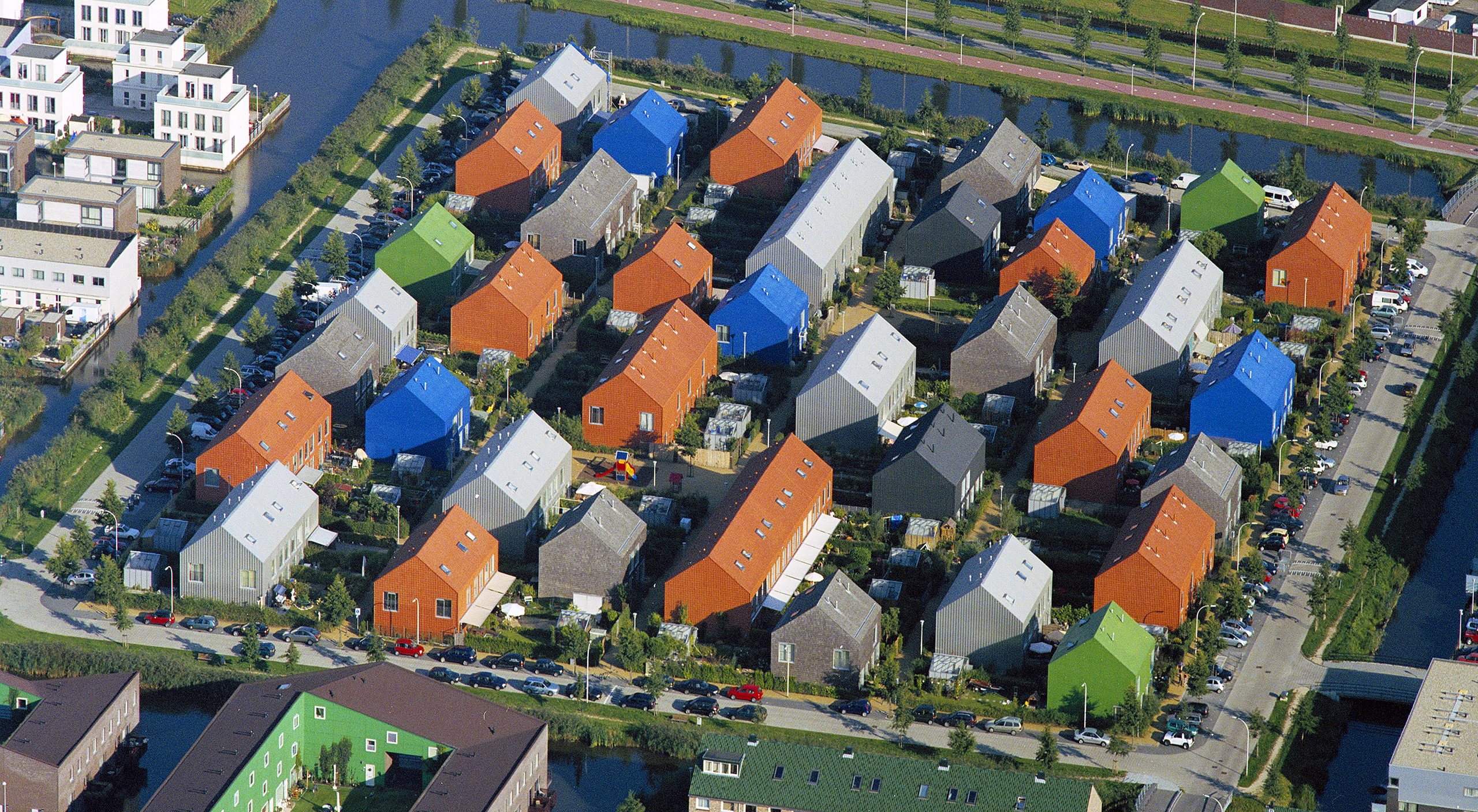 Ypenburg
Located in Ypenburg, a new housing development in The Hague, the so called Waterwijk neighbourhood consists of several islands grouped together. Each island contains a different suburban typology. Enclosed blocks, patio houses, row houses and luxury villa's. MVRDV was not only responsible for the overall master plan of the so called Waterwijk, but also for the architecture of several typologies: the Watervilla's, the Hedge Island and the Patio Island.
Location

City

Ypenburg, The Hague

Year

2005

Surface

60000 m²

Client

Amvest Vastgoed, Amsterdam NL

Status

Realised

Programmes

Themes
The centrally planned developments of the Netherlands have lead in the 1990s to the construction of a giant compromise: millions of suburban houses are under construction, combining a low rise house with a relatively dense setting.

It leads to environments that are neither urban or rural or even suburban, but rather to houses with very small gardens and claustrophobic environments. How can we escape from this claustrophobia while working within the difficult constraints of the site?



Within the 7,000 new houses built in the Ypenburg housing suburb near The Hague, the Waterwijk area commands a special position.

Compared to other strategies in the overall plan, Waterwijk strives to create the most intense water-focused environment as a way to increase the attraction of the neighborhood and position it to compete better with the others.

This approach has been carried out by turning the housing area into an archipelago of islands with houses on them. The question for MVRDV was how to realize or strengthen an archipelago like this with the market-driven technical possibilities?
A diversity of development approaches spreads risk. This resulted in a choice of as many different living environments as possible on each group of islands: patio houses, garden houses, houses around a court, apartments and reed houses. The difference in character is maximised by different choices of green facilities, different ecological measures, different lighting, different pavement and different materials for the houses of each island.

The size, 900 houses in total, enables experimentation. Is it true that 10 percent of a project's budget can be dedicated to experimentation? According to the principles of economics, experimentation can happen as long as the remaining homes carry less risk. By saving costs on one island, by making islands with fewer quays, with less infrastructure, and fewer details, MVRDV allowed investment in another island that allowed for new experimental environments.

Different architects have worked within the masterplan to further maximise its architectural diversity.
© all rights reserved